Poster Reception at "Technopolis"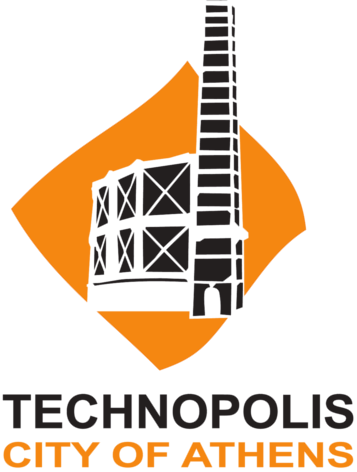 The "Technopolis" of the City of Athens , an industrial museum of incomparable architecture - among the most interesting in the world, has been transformed into a multipurpose cultural space. The centre has assisted in the upgrading of a historic Athens district and the creation of yet another positive element in Athens' cultural identity.
It is housed in the city's former gasworks, on a site known as Gazi spanning three hectares, next to the Kerameikos area and in close proximity to the Acropolis. The gasworks was gradually transformed into an education centre and host venue for various events. The visitor can take a stroll through the site filled with images, knowledge and emotions.
The charm of a bygone area, conveyed through stacks, enormous cauldrons (gasometers), chimneys and ovens, "conspires" with reverence to establish the site as a "factory" for the protection and production of art. Etymologically, the word "gas" (derived from the ancient German galist, later geist) means spirit.
In operation since 1999, "Technopolis" is dedicated to the memory of the unforgettable composer Manos Hadjidakis.
The poster Reception will take place in D10: 'Kostis Palamas' Hall.
This site constituted the so-called "purgatory" where the gas, having undergone the freezing process, was channelled through pipes to the "presses" for the final stage of cleaning.
Getting there
Address: 100 Pireos St, Athens

By metro: The main entrance of "Technopolis" is located approximately 500 meters away from metro station 'Kerameikos' (Κεραμεικός, in Greek). Head east onto Voutadon Str. towards Sofroniou Str. Turn right onto Pireos Str. Make sure that you enter "Technopolis" from its entrance at Pireos Str.

By foot: If the weather is nice (and most probably, since it is September it will be…) we suggest walking from the conference venue to "Technopolis", a 30 minutes relaxed walk down to Apostolou Pavlou pedestrian viewing the Acropolis hill on your right and the Filopappou hill on your left. Again, make sure that you enter "Technopolis" from its entrance at Pireos Str.
Please remember to bring your entrance ticket to this event.
View The City of Athens "Technopolis" in a larger map